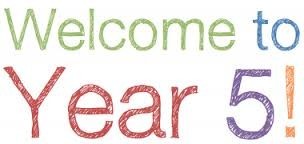 Welcome to year 5! We hope you have all had a fantastic summer break and you're ready for the exciting term ahead!
Meet the team...
Teaching staff: Miss Hills (Snowy Owls class teacher/year leader) Miss Newnham (Tawny Owls class teacher)
Support staff: Mrs Musclewhite, Mrs Penberthy, Miss Thomas
Thank you to everyone who was able to attend parents evening this week. It was a great evening and we really enjoyed sharing with you all the fantastic work that your children have been doing!
The week ahead...
Numeracy (WB 21.11.16)
Throughout the week, children will continue to explore measure with a focus on converting between different units of measure. We will also explore measure in a range of contexts.
Literacy (WB 21.11.16)
During our literacy this week, children will write and up-level their personal profiles. They will then film their profiles in a group before moving on to explore a myth.
Topic (WB 21.11.16)
Our learning continues to explore history through art, with the focus moving to Ancient Greece this week. They will explore the stories told through Greek art, with specific reference to Greek pottery.
Spellings (WB 21.11.16)
We will continue to explore homophones, with a focus on strategies for learning words, including:
isle/aisle
aloud/allowed
affect/effect
herd/heard
past/passed
Year 5 and Year 6 spelling information meeting
From the responses we have had regarding interest in a spelling information meeting, year 5 and year 6 have arranged a spelling information meeting for Monday 21st November at 5:30. We look forward to seeing you there.
Year 5 and Year 6 spelling word list
Art Projects for Schools
Art Projects for Schools 'Christmas Card' orders can be placed up to the midnight 16th October. This is due to high levels of orders they are experiencing on their website. You may need to keep coming back to it if it says that our order is not open. They have assured me that our order should be open tomorrow (12.10.16).
Please, can you ensure that your card designed is returned to your class teachers hand or indicated in your child's home-school link book that you have placed an order so that it can be put into the envelope on Monday 17th October.
If we do not receive your artwork back by Monday 17th October they will not be sent to the company and you will need to do this yourself.
Thank you,
Miss Holding
Calling all Year 1 - Year 6 pupils. I would love to invite you to join our choir, Monday mornings at 8am in Dove's classroom. Old and new members welcome. Come and join us this Monday, it's a great way to start the week!

Looking forward to singing with you,

Mrs Walmsley
Questions you could ask your child when you read with them at home...
Important Information
PE
PE is going to be on a Thursday. Children must wear full school PE kit. This is black shorts/black jogging bottoms, white t-shirt (with or without the school logo), black tracksuit jumper.
BOOK BAGS: As previously mentioned, children bringing rucksacks to school is creating tripping and Health & Safety hazards. All classes throughout the whole school have now been provided with a book bag trolley for the children to put their book bags in each day. If you do not wish to purchase a book bag, a carrier bag with your child's name on it will be adequate. Lunch boxes should go on the lunch trolleys and if children require PE kit to change into for an end of day sports club, this can be brought in in a carrier bag that can be put into the child's cubbyhole under their coat peg. This should not cause too many difficulties for parents, but will make this much safer for our children in school.
Social Media:

If your child has access to social media with your permission, please ensure they use it responsibly. We ask that children do not try to follow or find adults from school on their social media accounts.
C

lothing Reminder:

Please can all parents remember to send children into school with a coat each day (waterproof if possible) P.E lessons and playtimes still take place in the winter weather so it is essential that children bring a coat, even if the weather looks fine in the morning, as this can change throughout the day.
Please could children come to school in their uniform even if they have a club after school. The only day they can wear their PE kit to school is on a Tuesday. Children will get changed quickly at the end of the day before their club starts.
If a your child takes part in a sporting activity for curriculum enrichment then they are able to wear their P.E kit to school on Wednesday.
School shoes should also be worn to school, no trainers please apart from PE day. If your child would like to bring in a pair of trainers to change into for our run each day, please ensure these are clearly named. Children will be expected to change back into their school shoes after the run. If children would like to wear slippers in class as this is more comfortable for their learning, please ensure they are also clearly named.
Break time snack should be a piece of fresh fruit or dried fruit. No snack bars or crackers please.
Children should bring their diaries to school so that letters and messages can be put in if necessary and spelling and mental maths scores can be recorded in there. If diaries have been lost at home, a new one can be purchased from the school office.
As you will be aware, we have a number of children in school who are very allergic to nuts and nut products. For these children if they come onto contact with a nut product, they can suffer life threatening consequences.This could be by touching a table where a child has eaten who had a nut or nut product in their food, or touching a door handle which has been touched by a child who has eaten a nut product and had traces on their hands. As a result, we would like to remind all parents that if you are providing your child with a lunch from home, please could we request that you support us in keeping all children safe, by ensuring that no food items contain nuts or nut products. Thank you for your continued support.
Alan Peat Sentences
Throughout year 5, children will be introduced to a range of sentence structures to develop their writing. Please see the powerpoint below for the different sentence structures.
Please see below for alternative questions you could ask your child about their day when they come home from school...
Recommended Books for Year 5...