Here you will see comments from people who wish to sign our visitors' ebook by either sending us an email or writing us a letter. With such lovely comments coming from parents, staff, visitors, children and the community, we'd like to share them with you.
I also wanted to thank you for promoting such an inclusive environment that has made it possible for my daughter to not only attend a mainstream school, but to also really thrive. Finally, I wanted to say a big thank you to Mrs Du Preez, Mrs Zygo & Miss Bestford who are all doing an amazing job in helping her reach her full potential.
Kind regards,
Louise
Hi Cathy,
Many thanks for the opportunity to visit the school and to work with your staff and the children. I thoroughly enjoyed my time and hope the new term has started well.
Hoping all is well with Team Oxley,
Best wishes,
Andy
Mr. Andrew Dalziell
Consultant in Bilateral Integration
Neuro-Developmental Practitioner
Johansen IAS Provider
PhD Research Student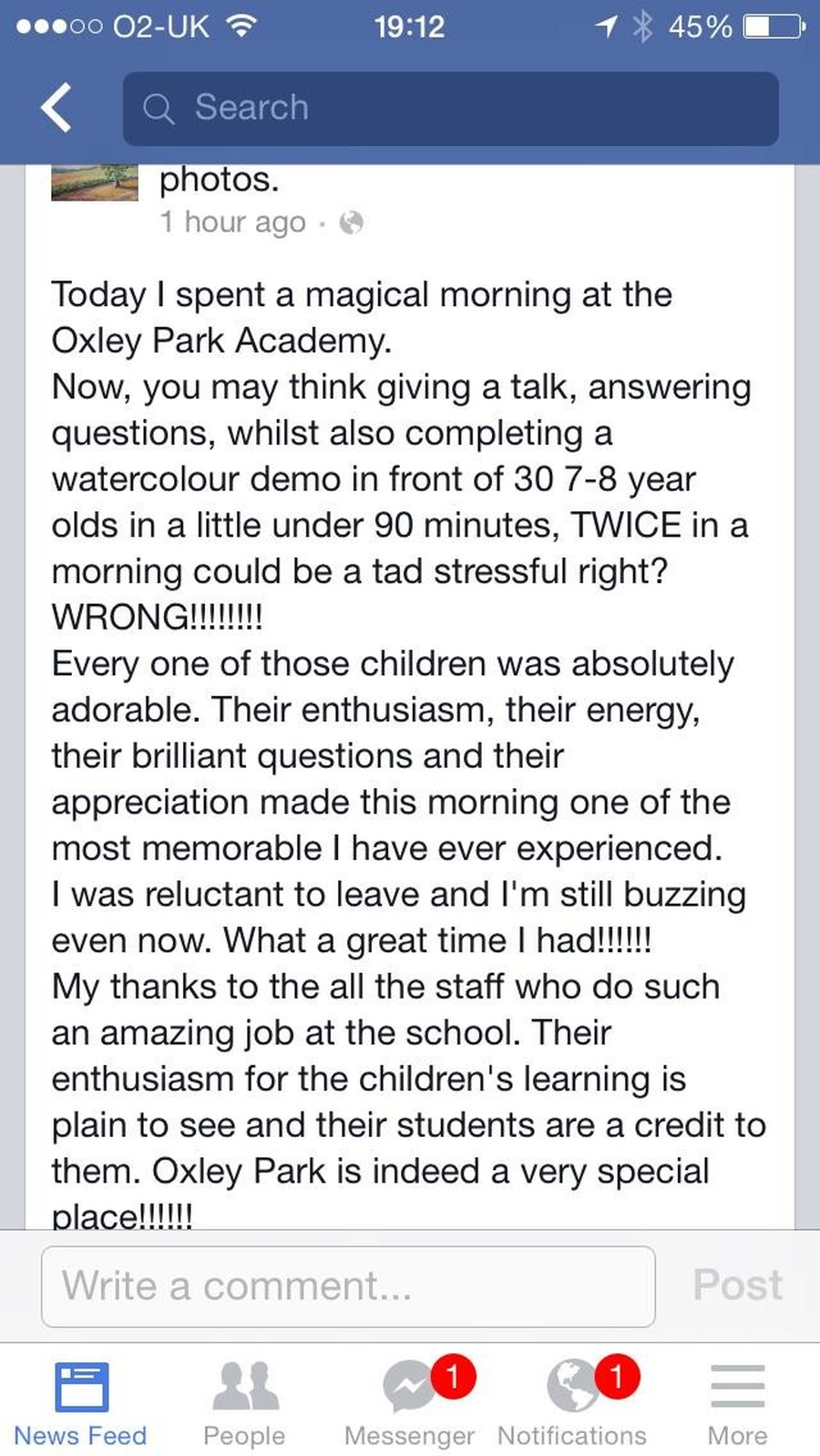 Dear Cathy

I completed the third and final day of the Learning Lenses training today and just wanted to say thank you for your support in helping facilitate and deliver the programme. I did pop by the office to say thanks in person but understand you were out of school today. Everyone on the course has commented on the value of being in such a wonderful school and on the amount of ideas and inspiration they've been able to take away for use in their own schools - Pie Corbett says we're all magpies!!

I've also been extremely grateful for the way in which I've always been welcomed, to the staff who've allowed us to use their classrooms and particularly to the 3 members of Team Oxley who did such a wonderful job in looking after us and adding much valued information about the school during discussion time.
It's been both a privilege and a pleasure to have been involved with the school - please do pass on my thanks to all concerned.

Best wishes

Andy Meller
---
Hi Cathy
Following on from our discussion this afternoon, I would like to reiterate how pleasant an experience it was to work with the pupils and staff of year six when shooting the leavers memory book on behalf of TSPC.
I found all of the children to be extremely polite and courteous when spoken to, and all were extremely helpful and great to work with.
In short, both of the golden eagle classes are a credit to the school.
Kind Regards
James Kennedy
(working on behalf of The School Photography Company)
---
I'd also like to say I find your school to be one of the best I've ever been in and I feel it's a credit to you! It just strikes me week on week!
Daniela Bove
---
Hi Cathy and Team
I am just writing to say thank you as I am a firm believer in showing gratitude and credit when it's due.
My son Joe started at Oxley Park in September 2013. We had only been back in the UK for two weeks having returned from living in Spain for the past 6 years. As you can imagine everything was very new to Joe, having left the UK when he was just 14 months old everything here was completely new to him, not least starting a new English school, when all he had ever known was Spanish school which is very different!
When we visited Oxley Park Academy to see if there was any possibility that there would be a place for Joe the minute we walked through the door it felt right! I can't put my finger on what it is about Oxley Park but as soon as you enter you feel nice. Your positive visions and attitudes which you encourage the children to live by and which are shown throughout the school are exactly how we are trying to raise our children.
We were greeted with such warmth by your Receptionist and Nadine and although a place could not be promised we were assured that due to our address they would look into the matter for us. I came away with mixed emotions, on the one hand I was so pleased that Joe was on the waiting list for a school that just felt so right but I knew how disappointed I would be if a place was not available.
When we got the call from Nadine that afternoon to say that a place was available, I was literally dancing around our living room. I knew apart from anything else that although this was a completely new and sometimes daunting chapter for our little boy he would be properly looked after and that his introduction into school in the UK would be a fantastic one.
From his first day Joe hasn't looked back and loves going to school. Miss Newsholme and her team have been absolutely fantastic, they are caring, approachable, helpful and always willing to listen and Joe loves going to school and has done from day one. Miss Newsholme in particular has been a key factor in helping Joe to settle and has built a fantastic relationship with him so that he feels confident and secure at all times
Thank you so much, your Academy is fantastic and I look forward to seeing the continued success of The Oxley Park Academy.
Kind regards
Justine
---
Dear Cathy,
Congratulations!
It's with immense pleasure I am writing you. You have done it again; it's a proud moment for all Staff, Parents, and Children of Oxley Park Academy. I am proud and thankful.
I never for once doubted Oxley Park Academy receiving the award.
Hard work and dedication will always make us stand out with endless ideas for growth and recognition. I have no doubt OPA team will continue to perform.
Congratulations in receiving the Pride in Milton Keynes Award for Educational Excellence.
Sincerely,
Alison Lennon
Director of Marketing and Communications
---
Dear Oxley Park,
Having finally liaised with the chaps that attended your Road Safety Week Campaign last Friday, I would like to take this opportunity to thank you for the warm hospitality offered to Arriva, and that the exceptional behaviour of the children on the day are both are credit to you, the teaching staff and the school.
I really hope the pupils learned something from the day and that they are putting the knowledge gained into safe practice from now on.
Once again, a really big thank you!!
Kind Regards,
Rufus Newbury
Service Delivery Manager
Arriva Buses, CMK
---
Hi Cathy
I've just been to see my son in his Easter assembly and went to the little "cafe" in the library afterwards.
As usual all of the children serving were very polite and well mannered. However over and above this, there was one blonde girl who sat with my 2 year old Jack and read him a story. She was so kind and patient with him (he can be a handful) and it was just so nice to see.
I really should have asked her name, but wanted you to know how grateful I was to this little girl.
Thanks so much.
Suzanne
---
Good Evening Cathy,
I wanted to contact you to share with you how much I enjoyed this evenings performance.
The whole experience from start to finsh was brilliant! The talents on display from the children were amazing!
The way the children conducted themselves on and off the stage was second to none, the hard work and dedication from the staff has clearly paid off and this showed throughout the evening.
Knowing most of the children in year 4 through the school and from my own childrens friendships, the maturity and confidence shown by the children this evening is just fantastic, clearly the staff have nurtured and coached the children to enable them show their natural talents.
My own children have returned home really proud of themselves and as a parent that is wonderful to see.
Please pass on to all the staff involved how pleased and grateful I am as I throughly the performance.
Many Thanks
Gary Blackmore-Read
---
There is no surprise why Oxley Park won outstanding team of the year in the teaching awards. The welcome all of the team gave to me was exceptional. The eagerness of year group teams to explore how to build upon their success with the curriculum was fantastic and I look forward to seeing the books in June. What really struck me during my visit was how 'joined up' the ambition for children seemed. The way that even the school motto 'believe, dream' even equates to the type of targets set is just one example of the vision coming to life.
Thanks
Chris
---
Dear Cathy

I just wanted to say how lovely the children sang at Middleton Hall today. Not too many parents could make it, but those who did were immensly proud of the children. They sang beautifully!

Even though it was a small group of the choir, they really made an extra special effort to make sure everyone could hear. Miss Arnold and Mrs Harrison-Cowley did a fantastic job!

Well done everyone, it was a truly lovely time x

Many thanks

Deborah (a very proud Lois' mum)
---
Hi Cathy
Just wondering what everyone thought of the song?
I had a great time doing it.
For what it's worth all of the members of the smaller group that I worked with were absolutely excellent. Their behaviour and attitude towards what we were doing was exemplary and I really think they understood the task and claimed lots of ownership over the work.
If I could properly remember the names I would give you some individual cases but I know I can tell you that Bryce, Zara, Grace and Tom were particularly brilliant.
Hope To see you all again soon
Tom
---
Sincere Congratulations
Hello Cathy, I am so pleased to see that you won the Award for Outstanding School Team of the Year. Please pass on my sincere congratulations to everyone at Oxley Park Academy and to yourself what an outstanding achievement. I have never been into a school that has made such an impression on me as the day I visited your school. You should be very proud of your achievements and those of your team. I haven't stopped telling people of my experience at Oxley Park. I am thinking of running bus trips for teachers to see 'The Oxley Haka' performed. Every good wish for the future of the school.
---
We wanted to write and thank Oxley Park Academy for participating in this year's Shakespeare Schools Festival. As you know, a group of your students performed A Midsummer Night's Dream, directed by Emma Keane, at Stantonbury Campus Theatre, Milton Keynes as part of our UK wide Festival.
Shakespeare has played an important part in the cultural landscape of 2012. His words welcomed the world to the UK and opened our Olympic celebrations. These words were performed by the 17, 500 students who participated in this year's Festival. Your students and your school should be immensely proud of this.
It is because of teachers like Emma, and their hard work and commitment to your students that this Festival continues to be such a success.
Yours sincerely,
Penelope Middelboe, Christopher Grace
CEO Festival Directors
---
Dear Mrs Higgins
I just wanted to say how lovely the school Christmas opening was this morning.
As a grandparent, I was touched that you put so much thought and effort into it for the pleasure of the children. To see their little faces when they turned the corner and saw Santa was special.
Thank you so very much.
Kind Regards
Grandmother to two children at Oxley Park
---
---
26 November 2012


Dear Oxley Park Choir

John Lewis Milton Keynes would like to say a very BIG thank you to all the children who attended our Countdown to Christmas customer event on Sunday 25 November.

We have received lots of lovely comments from our customers and partners about your beautiful voices and how very well behaved you all were. I hope the children enjoyed it as much as we did! We would love to welcome you back again into our store in 2013

We hope you all have a fantastic Christmas!

Thank you again

Lots of love from Tonie, Sarah and all of us at John Lewis Milton Keynes
---
---
"I had a lovely day at Oxley Park Academy. I am impressed that all the teaching staff are THRASS trained - what a difference this makes to the continuity throughout the school - it makes so much sense. I am also impressed by the children's confidence as they go through their THRASS routines for 'the visitors'. Having an Open Day is such a brilliant way to introduce THRASS in action - there were lots of encouraging comments from other delegates who have not yet done the THRASS training - I do so hope that many of them will go ahead. I have never looked back since I did my training many years ago - THRASS makes sense of learning to read, write and spell. It is clear to see that THRASS works well in a school where all the teaching staff and children are enthusiastic. Many thanks for letting me experience the Open Day - it was most enjoyable."
---
---
Good Morning
Just had to let you know about a conversation from our house yesterday after school.
Both Melis and Kiera came home very enthused and immensely excited, Kiera had finally achieved her 100 Hotwords, she looked slightly relieved and emotionally overcome with the event. Then the girls went onto tell me that they'd had tea in the library with Mrs Higgins, double wow, if that wasn't all enough, Melis hurriedly told me how she'd missed PE (which was a bit sad) but she'd helped grown-ups doing their THRASS lesson (any form of teaching on Melis's part will make up for missing her loved PE lesson). All in all another fantastic day at school.
Once Daddy was home and now all sitting around the dinner table but still recounting their day, Daddy asked.
"Melis what was the highlight of your day then?"
"What is highlight Daddy?" asks Melis.
"It means the best part of your day" replies Daddy.
"Oh that's easy, the best part of today, just like the best part of every single day is seeing Mrs Wood's smile first thing in the morning." came the reply.
How beautiful is that, the smallest things can make the biggest impact and we thank you for this.
Have a lovely weekend.
Maria and Mehmet
---
Dear Oxley Park Academy,
Hi it's Lauren, you probably remember me as I went to Oxley, I now go to Akley Wood School. I was just wondering if I could possibly come in and visit you all as I really miss the school and I loved Oxley. I was watching BBC Teaching Awards and I saw a face that I recognised and that was Miss Higgins, I'm so happy that you managed to win the award as I think you are a great school. I will never forget the fabulous times I had there. My friends sister is 4 or 5 years old and she is in foundation and I told her to go to Oxley as I had an amazing experience with you. So hopefully I can arrange to come in at Christmas as I break up before you all where I can come and see you all again, plus I loved our hacka and I still remember it to this day.
Hope to see you all soon,
Thanks From Lauren :)
---
Dear Cathy.
I am just watching the teaching awards and am delighted that you have won the team of the year award. A very well deserved award.
The visit I made to your school has made a great influence on and helped us develop our creative curriculum.
Congratulations to the team.
Best wishes
Anne Brouard
Head Teacher
St Sampson's Infant's School
---
Dear School Team,
I hope you do not mind one of your pupil's grandparents contacting you but I just wanted to congratulate you all on your amazing achievement.
It was so rewarding to watch the television programme with my grandson (Joshua) and his family and to see the hard work and
dedication Oxley Park put into the running of the school and making their formative years so special. I am astounded with what Joshua tells me
about his day at school; of what he is learning and how much he enjoys what he does, which is so important. With what he tells me about his reading,
spellings and all the special occasions you plan for the children, and the awards the children can attain, I wish my school years had been so well
organised and fun-packed.
You must all be so proud and I cannot thank you enough for making my grandson's education (as well as everyone else) and early years so wonderful and memorable. It is heart-warming to see Joshua enjoying learning so much and wanting to learn, and this is all down to Oxley Park Academy (and his parents of course). No wonder so many parents are keen for their children to attend your school.
Well done and thank you
Lynne
Grandparent to Joshua
---
Hi Cathy,
I was watching the Teaching Awards last night and was so excited to see that OPA had won an award! Well done to you all!
Best wishes,
Clare.
Ms Clare Selby
HR Team Leader (Schools)
Human Resources - Milton Keynes Partnership
---
Cathy
School looked great on TV last night.
Well done to you all.
Assistant Director MK Council.
Assistant Director | Children and Families - Education, Effectiveness and Participation
Milton Keynes Council