Oxley Park Primary School became Oxley Park Academy on 1st July 2011. It was one of the first primary schools in Milton Keynes to achieve this status. As an academy Oxley Park is independent from the Local Authority and, although state funded, is directly accountable to the Department for Education.
We made the decision to become an academy in order that we could best meet the needs of our pupils. This was not purely a financial decision but based on the freedoms and autonomies which academy convertors have, to meet their community's needs. The rich and varied curriculum we offer is one example of the benefits we have already made by achieving academy status. We continue to work in partnership with the local authority and local schools in many ways, including through my role as a Local Leader of Education.
Oxley Park Academy is proud to be part of a very supportive community. It is very well supported by the Academy Directors (Board of Governors). We have very high expectations of ourselves to provide an excellent education for all of the children who attend our school, and equally we have very high expectations for children's learning and behaviour.
We also have the expectation that parents/carers will take the time to find out about our school, even before their children join, so that we can work together to support and promote our successful ethos.
There is a strong emphasis on working in close partnership with parents/carers and the local community. There is an African saying – "It takes a whole village to educate a child". This is very much our philosophy and "Team Oxley" includes parents/carers, children, staff, Governors and the community we serve. We all have different roles to play but each are equally important to achieve excellence for, and in, our school.
In addition to academic achievements our children excel in their personal development – we develop our children to become confident, happy and caring individuals who have a thirst for learning and aspirations to be the best they can be- now and in the future.
Our motto is "Dream, Believe, Achieve – Together". Team Oxley live and breathe that every day. My greatest privilege is to lead this amazing school. I love the job I do and am eternally proud of my "Team Oxley" and the successes they achieve.
Please do not hesitate to arrange a visit to see us in action. I look forward to meeting you.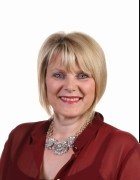 Cathy Higgins
Academy Principal